Tria's Tournament of Champions

With the second Closed Beta only a few weeks away, the classes of MapleStory 2 decided to have a little friendly competition with Tria's Tournament of Champions!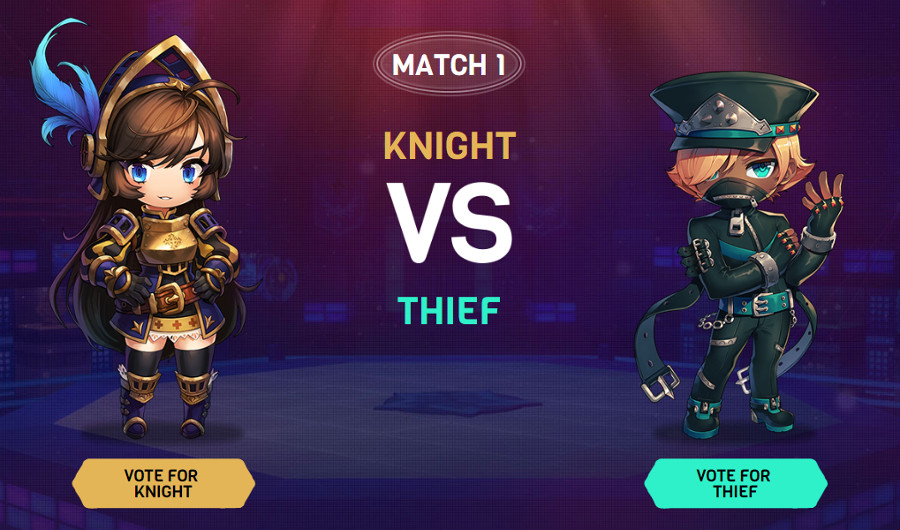 The eight classes coming to MapleStory 2 on launch have been sorted into an 8-round bracket, with your votes deciding which characters will reign supreme! Head over to the Tria's Tournament of Champions page, learn more about each of the classes to come and pick your favorites!

You'll earn a special Royal Arbiter Name Tag in-game item for casting at least one vote. You'll also earn the special in-game MapleStory 2 T-Shirt just by sharing your vote! Both rewards will be given during Closed Beta 2 and again in the official launch. We've also set aside 15,000 Closed Beta Invites to those that have not been selected, to be distributed to the participants to cast and share their votes the most!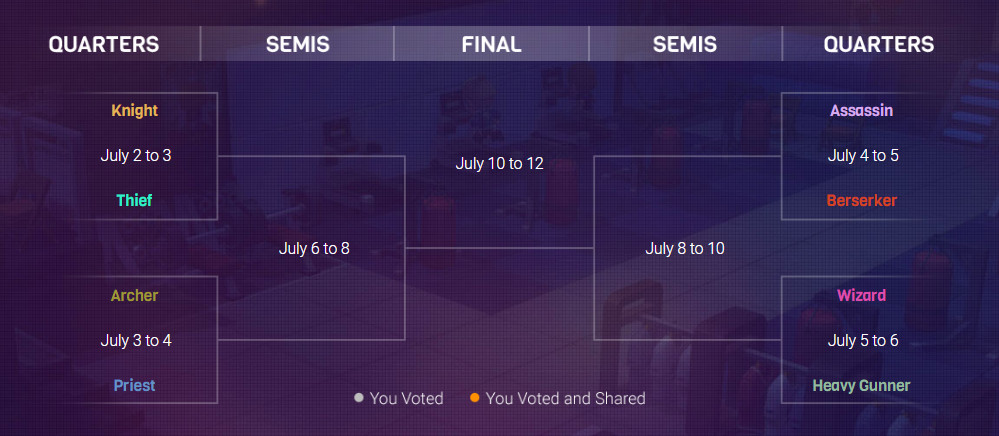 The first four rounds of the tournament will last 24 hours, starting and ending at 8:00 AM PDT, with the winner of each match advancing on. Be sure to keep an eye out and earn your prizes, and maybe a spot in Closed Beta 2!
Tournament Schedule
Times in PDT (UTC -7):
Match 1 (Knight vs Thief): 8:00 AM July 2nd - 8:00 AM July 3rd
Match 2 (Archer vs Priest): 8:00 AM July 3rd - 8:00 AM July 4th
Match 3 (Assassin vs Berserker): 8:00 AM July 4th - 8:00 AM July 5th
Match 4 (Wizard vs Heavy Gunner): 8:00 AM July 5th - 8:00 AM July 6th
Match 5 (Semi-Final 1): 8:00 AM July 6th - 8:00 AM July 8th
Match 6 (Semi-Final 2): 8:00 AM July 8th - 8:00 AM July 10th
Match 7 (Finals): 8:00 AM July 10th - 8:00 AM July 12th