[Update Jul 23] Mushking Weekend Event
Update Jul 23: As compensation for Mushking Weekend erroneously ending early, we will be having another 24 hours of Mushking Royale on Saturday, July 28th. The matches played during this period will count towards the Mushking Royale Weekend event prizes, and rankings will be preserved from this last weekend round.
PDT (UTC -7): 8:00 AM July 28th - 8:00 AM July 29th
EDT (UTC -4): 11:00 AM July 28th - 11:00 AM July 29th
BRT (UTC -3): 12:00 PM July 28th - 12:00 PM July 29th
CEST (UTC +2): 5:00 PM July 28th - 5:00 PM July 29th
AEST (UTC +10): 1:00 AM July 29th - 1:00 AM July 30th
---
Mushking Royale is coming to Closed Beta 2 for a special weekend of fun! This new take on the battle royale multiplayer game mode is our own little experiment. You and up to 49 other players enter a map filled with buildings, bombs, environmental traps, treasure chests and much more. As deadly spores shrink the amount of room you have to fight in, battle it out to become the last Mapler standing. But Mushking Royale isn't the same as the Battle Royale games that you've played before, thanks to MapleStory 2's combat and a few special innovations.
We're looking forward to seeing you dominate your fellow Maplers in Mushking Royale! And to add a little extra incentive for giving the mode a try, we're giving out fun Mushking Royale-themed in-game items, plus Founder's Packs for the best Mushking Royale players!
Event Duration
PDT (UTC -7): 8:00 AM July 20th - 8:00 AM July 23rd
EDT (UTC -4): 11:00 AM July 20th - 11:00 AM July 23rd
BRT (UTC -3): 12:00 PM July 20th - 12:00 PM July 23rd
CEST (UTC +2): 5:00 PM July 20th - 5:00 PM July 23rd
AEST (UTC +10): 1:00 AM July 21st - 1:00 AM July 24th
Second Weekend Duration
PDT (UTC -7): 8:00 AM July 28th - 8:00 AM July 29th
EDT (UTC -4): 11:00 AM July 28th - 11:00 AM July 29th
BRT (UTC -3): 12:00 PM July 28th - 12:00 PM July 29th
CEST (UTC +2): 5:00 PM July 28th - 5:00 PM July 29th
AEST (UTC +10): 1:00 AM July 29th - 1:00 AM July 30th
Event Rewards
The Top Ranked players on each server will receive free Founder's Packs for their success, each one containing exclusive items, Premium Club Membership and a boat load of Merets!

1st Place: Legendary Package
2nd and 3rd Place: Both receive a Master Package
4th through 10th Place: All receive an Explorer Package
11th through 100th Place: 5 randomly selected players will receive an Explorer Package

Founder's Packs will be distributed after Closed Beta 2 ends
Only one Founder's Pack can be won per player. If a player qualifies for more than one, they will receive the more valuable package and be removed from consideration for any other packages.

Completing your first Mushking Royale match, win or lose, will reward you with a Sleepy Shroom's Box!
Every time you open a Wooden or Golden Chest, you'll gain another Sleepy Shroom's Box!
Every time you increase your Champion's Level by playing Mushking Royale, you'll receive 10x Sleepy Shroom's Boxes!
Finally, anyone that plays a round of Mushking Royale will receive a Honorary Mushtopian Title when MapleStory 2 officially launches!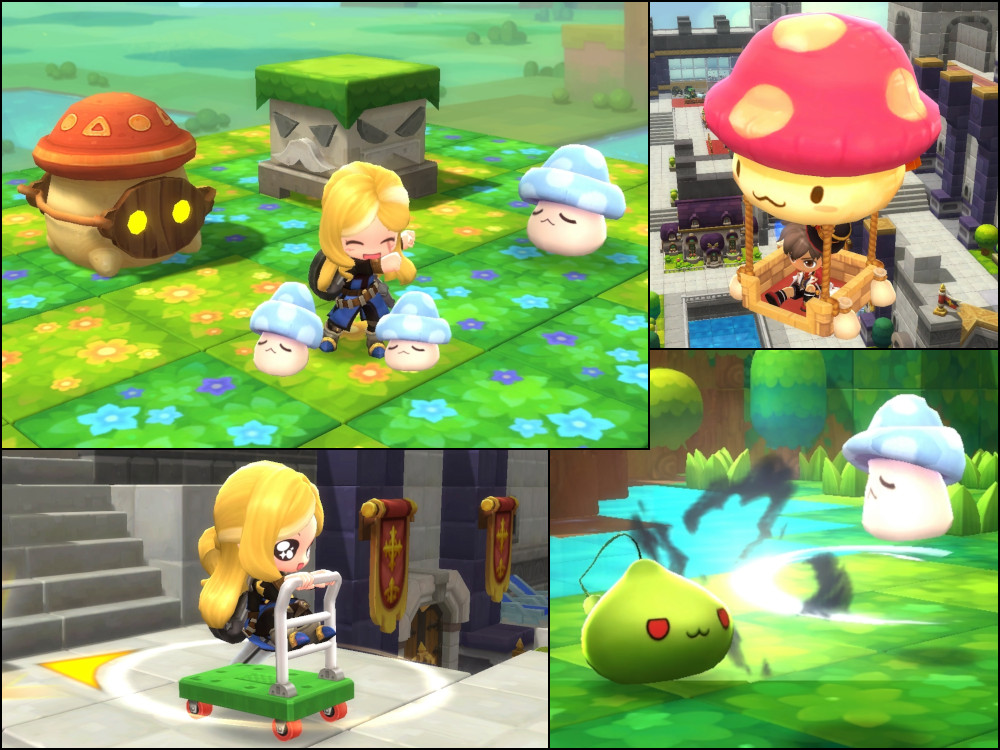 Sleepy Shroom's Box can contain one of the following items:
Normal, Rare, Exceptional or Epic quality Sleepy Shroom Combat Pet
The Flying Mushman Flying Mount
Mushroom Hot Air Balloon Flying Mount
Tandem Riding Mushroom Two-Person Ground Mount
Zooming Hand Cart Ground Mount
Puer Outfit Package
Beast King Outfit Package
Sleepy Shroom Dance Emote
Golden Haloed Mushroom Head Outfit
Dozing Sleepy Shroom House Decoration
Spinning Mushguard House Decoration
Mushguard Stand House Decoration
Thornbush House Decoration
Cosmetics Voucher
Hairstyle Voucher
Face Change Voucher
World Chat Voucher
Party Summon Scroll
Elixir
Orange Mushroom Super Chat Theme
Channel Chat Voucher
Dryad G3 Snare
Mini-elixir
Lucky Fireworks
Yellow Paint Bomb
White Potion
Special Red Potion
Special Red Herb
Ranking Reward Distribution Policy
Players can only win one Founder's Pack on the account that was placed in the rankings.
If a player was placed in the rankings of more than one region, the highest valued Founder's Pack that was won will be granted.
For players who already owned a Founder's Pack:

If the Founder's Pack that was won was valued more than what was owned, the player's Founder's Pack will be upgraded to the higher value.
If the Founder's Pack that was won was of equal or lesser value, the prize value of the Founder's Pack will be given in Blue Merets instead.
What is Mushking Royale?
In Mushking Royale, every player enters with the same set of abilities and the same stats; a Lv. 50 Knight has no advantage over a Lv. 10 Mage. In order to get strong enough to best the competition, you'll need to hunt around the map, looking for sleepy Mushrooms to defeat and treasure chests to open, because that's how you get the big guns...
Combat Abilites
Mushrooms and Chests will drop a wide variety of items when dealt with. Some of these items include useful consumables, like healing herbs, damage boost, even trackers that can tell you where other players are on the minimap, but they also include special abilities to really give opponents a hot foot.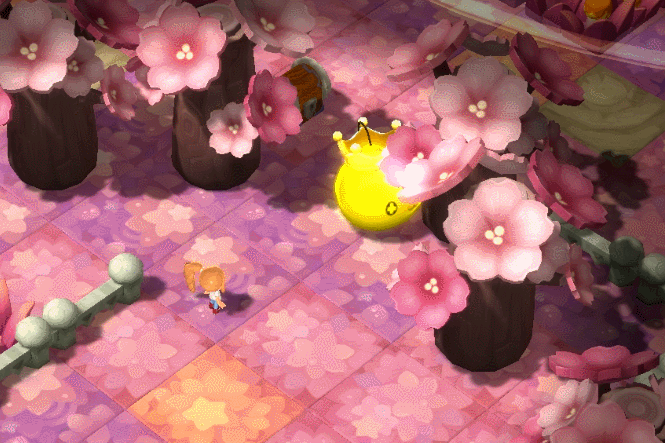 These powers are far, far stronger than your normal attacks, so you'll need to stock up and aim well, because each power can only be activated once per pick-up. Keep an eye on those powers and try not to get into a fight if you don't think you can finish it.
You can also augment your arsenal with throwable bombs, which can be found throughout the map. Some set the ground aflame, dealing damage to anyone that ventures inside. Other bombs boost the damage those splashed with the odd liquid take. There are also magnets, spike balls and a runaway cart that you can pick up and send careening at the enemy.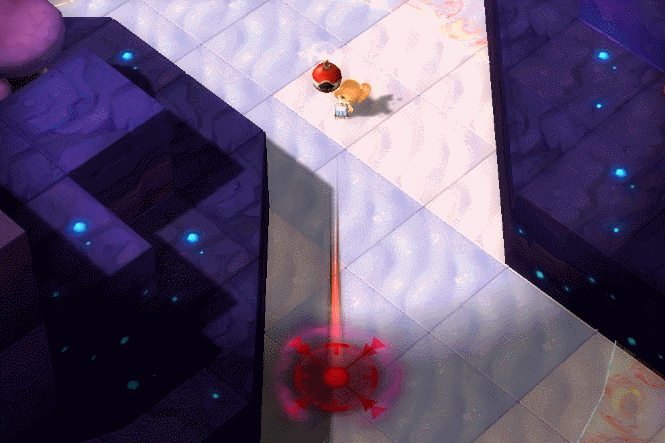 Only one bomb can be picked up at a time, and you won't be able to do some actions while holding it. But any weapon is a good weapon when you're down to your last rocket and you see a giant robot charging at you.
Oh, yeah, and there's also a giant robot that you can jump inside and rampage around in.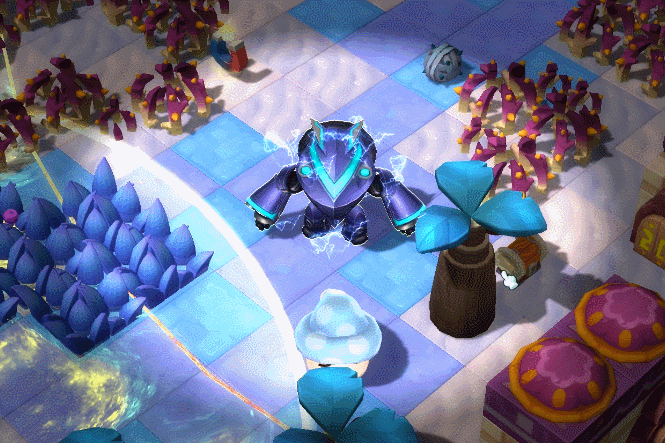 Late in the match, the Mushking will announce that these powerful weapons are available to use, if you can find it before anyone else. In addition to providing a massive boost to health, you'll also gain special abilities to crush whatever resistance is left. If you're not the one that jumped inside, try to find a place to hide until the robot runs out of power...
Surviving the Island
Mushking Island contains a large number of environmental details to keep you on your toes. The tall grass is one of the more generous details, if you're in it. It completely hides you from anyone outside your patch of grass, letting you get the drop on your foes... as long as they don't throw a bomb into the grass, just to be sure.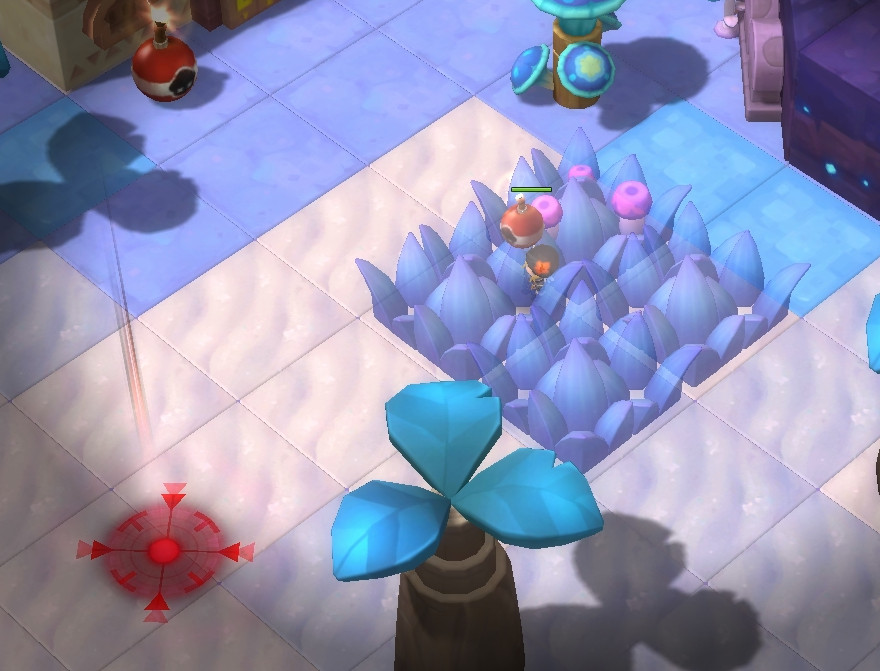 The thorny grass isn't so benevolent, however. You can try to run through it if you're desperate for escape, but those thorns can easily finish you off if you're not healthy enough. There's also toxic sludge and other environmental hazards you'll need to avoid if you want to be the last Mapler standing.
The Towers scattered around Mushking Island might be one of the more insidious threats, however. They won't hurt you themselves, and Golden Chests featuring a better selection of items can often be found at their base... but if you step foot in them, the alarm will sound, and every other player's minimap will light up.
There's countless other tricks and features with Mushking Royale that you'll need to know to beat the opposition, and we look forward to seeing your strategies and your epic victories as Mushking Weekend rolls on! Don't forget to toss us your feedback on the mode in the Official Forums. We're trying out a lot of ideas here and we hope you have as much fun playing it as we've had creating it!