Farewell Fairfight Update

It's time for the first update of Project New Leaf! Over the next few months as we build towards our next expansion, we're going to be unleashing a series of updates and improvements to MapleStory 2. With the feedback we've received, we're deploying the first set of changes, including a series of Quality of Life changes, a new item to help with gear and meso acquisition and a major change that many of you have been asking for...
Adventure Dungeon Fairfight
It's time to say farewell to Fairfight in all Adventure Dungeons! Maplers fighting their way through Normal and Hard Adventure Dungeons will now strike with their full power and deal full damage. Please note that with this change, the EXP earned from clearing Adventure Dungeons beyond daily and weekly cap has been reduced to 10%. 
Fairfight will remain active within Fortress Rumbles, as those are meant to remain challenging content regardless of equipped gear. Additionally, while players battling World Bosses will still be affected by Fairfight, the health of all World Bosses has been reduced by 60%. This will make them much quicker for smaller groups to down, without allowing high-level players to kill World Bosses in low-level zones in a matter of seconds.
Trader's Ribbons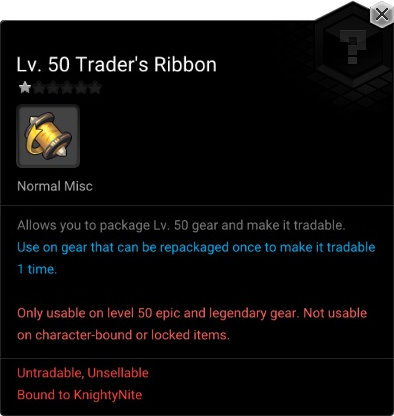 We're also adding Trader's Ribbons to MapleStory 2 to make Lv. 50 Epic and Legendary equipment tradeable to other players and sellable on the Black Market. Available only via Weekly Rank Rewards for some Chaos Raids and Fortress Rumbles, these new items will help players that get powerful but redundant gear ready their friends for the top-tier content (and make a few mesos on the side)!
Where to get Trader's Ribbons:
Chaos Raids:

Weekly Rank Rewards for the following Chaos Raids:

Hard Shadow Altar
Hard Moonlight Fortress
Ludibrium Clock Tower
Wrath of Infernog
Rank A: 14x Lv. 50 Trader's Ribbons

Fortress Rumbles

Weekly Rank Rewards for all Fortress Rumbles:

Rank A: 8x Lv. 50 Trader's Ribbons
Trader's Ribbons are character-bound, and the amount of Trader's Ribbons you will need to enable trading for Lv. 50 Epic or Legendary gears differs per grade and per gear type:
Lv. 50 Epic

Weapons

Two-Handed, Main Hand and Off-hand: 48 Trader's Ribbons
One-Handed: 24 Trader's Ribbons

Top/Bottom/Headgear/Gloves/Shoes: 24 Trader's Ribbons
Accessories: 15 Trader's Ribbons

Lv. 50 Legendary

Weapons

Two-Handed, Main Hand and Off-hand: 96 Trader's Ribbons
One-Handed: 48 Trader's Ribbons

Top/Bottom/Headgear/Gloves/Shoes: 48 Trader's Ribbons
Accessories: 30 Trader's Ribbons
Update (Feb. 28): This page initially did not list the Ribbon costs for Main Hand and Off-hand weapons. This has been corrected.
Full Patch Notes
General Changes
Fairfight Adjustments

See the Adventure Dungeon Fairfight section for more details

New Feature: Trader's Ribbon

See the Trader's Ribbons section for more details

Available Quest Window Improvement: The Available Quest window (which appears upon clicking "!" above your portrait) will display additional details, such as quest types (including Epic or Event) and quest levels
Notification Pop-up for Legendary Gear with Epic (Purple) Bonus Stats: Legendary gear with purple bonus stats can be the most valuable possessions you have in MapleStory 2. To prevent these items from accidentally getting destroyed, we have added an confirmation pop-up to confirm your action in the following cases:

Changing bonus stats
Selling to an NPC
Placing them into the "Dismantle Items" window
Throwing away or destroying
Using a Bonus Stat Re-Roller on the item

Fragment Tab in the Inventory: We have added a separate "Fragments" tab to your inventory where all of these fragments will be stored instead of "Misc" tab.

Fragments will automatically be placed in this tab
All Fragments previously in the Misc tab will automatically be relocated to the Fragment tab
Initial capacity of 48 slots
Can be expanded by 6 slots for 390 Blue Merets up to 8 times
Maximum capacity of 96 slots

Inventory Expansion: We have increased the default inventory size of the following tabs from 36 to 48 slots:

Gear
Mounts
Catalysts
Fishing / Music
Quest
Gemstones
Currency

Encyclopedia has been groomed to exclude items not available in the game
Events

Get all of the information on this month's events in the Magical Spring Events post!
Rock-Paper-Scissors Event: Out-think your friends or total strangers in a classic game of Rock-Paper-Scissors and claim the Kansas City Renovator flying mount!
Letter Collection Event: Beat up the newly-weakened World Bosses over the next month to claim a Striped Ribbon Headgear Outfit!
Daily Rewards Event: Stick around in MapleStory 2 for an hour a day to earn a variety of items every day, capped off with the Dapper Turtle ground mount!
Magical Math Event: Get the final rewards from the above three events to get a pair of adorable Poing Emotes!
Sales

Get all of the information on this month's sales in the Sweet Spring Sales post!
March Style Crate: We're almost out of winter, and the next Style Crate is here with a collection of outfits to celebrate the oncoming Spring!
Polar Pal Pack: Prefer the cold? The Polar Pal Pack has the new Fluffy Harp Seal ground mount and a matching Chat Bubble and Name Tag!
Spring Style Crate Bundle: Grab a set of 20 of the new Style Crates and get the bonus of a matching Spring Garden Chat Bubble and Name Tag!
Spring Instrument Bundle: Claim a flowery trio of instruments to ring in spring in style with this gorgeous Clarinet, Harp and Grand Piano!
New Hairstyles: Four new lovely hairstyles in Paulie's Special Hairstyles, including the Dandy Parted Cut and Frost-tipped Charm Hair for men, and Country Curl Pigtails and Cute Twin Tails for women!
Spring Blossoms Furnishing Package: Make your MapleStory 2 home look warm and sunny with a special package filled with flowerbeds, bird baths and more!
Bug Fixes
All 6 Hard Adventure Dungeons now properly have the same chance of being selected, regardless of the party's job composition
Kandura in the "BeyondLink Tris" dungeon will no longer become invincible after taking massive amounts of damage early in the fight
The tooltips for Pet Skin Crafting Scroll and Pet Skin Badge have been updated to more accurately describe their effects
The displayed maximum number of Exploration Goals has been corrected (677 instead of 690); the actual number of Exploration Goals has not changed
Players will no longer become stuck on a loading screen when attempting to preview a blueprint when not owning a home
The text for the "Dashed Dreams" quest has been updated to list the correct quest items
"Freedom Regained", "Chain Breaker", "To Be Orb Not To Be", and "Greenhouse Rummager" trophies now refer to the correct dungeons
The functionality for "Mute Other's Pets" has been fixed: Pet sounds will be muted, but impact sounds will still be audible
The description for the "Troubleshooter" trophy now correctly denotes that only World and Epic quests qualify for this trophy
"Chilly Round Chain Glasses" will now display when worn with headgear
CHKY-002 will now spawn more reliably on the Sky Fortress Deck
CHKY-002 has been added to the Encyclopedia
The invisible walls behind the Queenstown stage have been removed
Using a skill with "Bubbling Love" equipped will no longer cause a second heart to appear
"My Personal Artisan Ring" trophy can now be unlocked by a personal assistant crafting "Savagery Rings"
Players are no longer able to cancel animations for skills with casting delays by summing a pet
Soul Binder's job buff now displays the appropriate tooltip
Soul Binder armor in the Shadow Gear Shop now correctly displays basic attributes
Housing trigger editor "Add" buttons no longer have cut-off text
Housing trigger editor "OnEnter" and "Conditions" buttons no longer have cut-off text
Shadow Crow's image no longer displays at incorrect times during conversations in the Assassin tutorial
The Motto window no longer closes when pressing the spacebar with gamepad controls enabled
Players can no longer dash and clip into a barrier to avoid boss projectiles in the "Cusp of Life" dungeon
Players are no longer able to exploit the AI and become unattackable during the "Joddy in Distress" quest
The cutscene and boss fight no longer repeat if the player kills the boss outside of its spawn room during "Joddy in Distress"
Players can now climb the wall (and avoid becoming stuck) if they fall onto one of the lower ledges during "Last of the Vayar" dungeon