Economy Improvements Update Patch Notes

It's the second update for Project New Leaf, and this month we're making some big changes to the MapleStory 2 economy! Learn about the Meso Market, get better odds on catching Epic Pets, take advantage of cheaper costs to change the attributes on Legendary Gear and much more with the Economy Improvements Update!
Meso Market
The Meso Market allows Maplers to supplement their bank by purchasing blocks of 5,000,000 mesos from fellow players, and for those with a wealth and a half of mesos to earn some Blue Merets by selling off what they have to spare. You can purchase mesos with Meso Tokens, a new currency that can only be used on the Meso Market, and convert into Blue Merets for the fellow Mapler selling the mesos.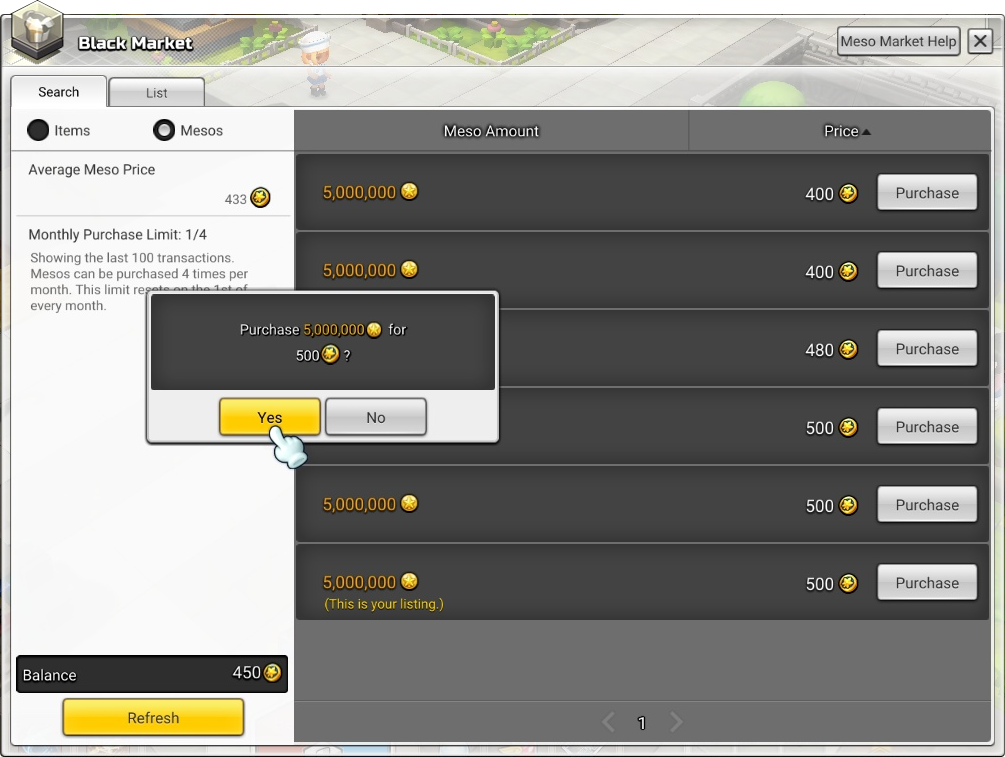 Meso Tokens can only be purchased via NX Prepaid, and as such is only available to players on the Nexon Launcher. You can only purchase up to 20,000,000 mesos per month to better manage the impact this new system will have on gear progression. Additionally, each account may only list up to 25,000,000 mesos per day. This system will allow players that have less time to gather mesos to get a boost to their progression, without making spending money the best way to gear up fast.
Meso Market Details
Listing Mesos:

All Meso Market listings must be for 5,000,000 mesos
An account may create up to 5 listings (25,000,000 total mesos) per day
Your listed price must be within 20% of the current average price

Europe, North America and Australia Regions: 500 Meso Token initial price
South America Region: 300 Meso Token initial price

Price is how many Meso Tokens your listing will cost to purchase, and how many Blue Merets you will receive when your listing is purchased

There are no transaction fees

Canceling a Meso Listing will return your mesos through the in-game mail, but will not increase the number of listings you can create that day
If your Meso Listing expires, you can recover your mesos by clicking the "Retrieve" button on the listing itself, which will send your mesos back to you via the in-game mail

Buying Meso Tokens:

A buyer opens the "Buy Merets" menu and purchases Meso Tokens
100 Meso Tokens can be purchased for 1,000 NX
These tokens have the same value as Blue Merets, but can only be purchased with NX Prepaid and can only be spent in the Meso Market
To minimize the impact of fraudulent activities, Meso Tokens can only be purchased with NX Prepaid and, as a result, are only available to players that have launched via the Nexon Launcher
Meso Tokens can only be used in the Meso Market

Buying Mesos:

The buyer goes to the Meso Market and purchases the listing of 5,000,000 mesos for the listed price
The buyer pays via Meso Tokens
The amount of Meso Tokens you spend when purchasing a Meso Listing is the amount of Blue Merets that the other player receives (again, no transaction fees)
Buyers can purchase up to 4 listings per month (thus, a maximum of 20,000,000 mesos purchased per month)
Purchased mesos will be delivered through the in-game mail
Epic Pets
Epic Pets are one of the elusive status symbols in MapleStory 2. Hard to find, hard to tame, but they're powerful helpers in the field and are adorable to boot! We're lowering the barrier and making them more prolific in MapleStory 2, increasing your odds of catching an Epic Pet by 600%. Hit the wilds and save those G3 Snares for red-metered pets for the best chance for an Epic Pet, and you'll have a buddy backing you up in no time!
Meso Sink Reduction
We also took aim at two particularly hefty resource sinks that have been holding players back from getting their equipment in top shape. While we'll be aiming to have more changes to Meso Sinks and other aspects of the economy with the Progression Improvement Update (tentatively planned for the end of April), but for now, enjoy cheaper Accessory Fragment Fusions and Legendary Gear Attribute changes!
Meso Sink Reduction Details
All Accessory Fragment Fusion costs have been reduced by 90%

Epic Accessory Fragment Fusion now costs 50,000 mesos, down from 500,000 mesos
Legendary Accessory Fragment Fusion now costs 100,000 mesos, down from 1,000,000 mesos

Legendary Gear Attribute Change Crystal Fragment costs for Headgear, Top, Bottom, Gloves and Shoes have been reduced:

First attempt reduced to 400 Crystal Fragments, down from 2,000
Subsequent attempts costs 400 additional fragments per attempt, down from ~25% increase from the previous attempt
| Change Attempt | Old Crystal Price | New Crystal Price |
| --- | --- | --- |
| 1 | 2,000 | 400 |
| 2 | 2,500 | 800 |
| 3 | 3,120 | 1,200 |
| 4 | 3,900 | 1,600 |
| 5 | 4,880 | 2,000 |
| 6 | 6,100 | 2,400 |
| 7 | 7,620 | 2,800 |
| 8 | 9,530 | 3,200 |
| 9 | 11,920 | 3,600 |
| 10 | 14,900 | 4,000 |
| 11 | 17,180 | 4,400 |
| 12 | 21,310 | 4,800 |
| 13 | 26,420 | 5,200 |
| 14 | 32,770 | 5,600 |
| 15 | 40,630 | 6,000 |
Patch Notes
General Changes
New Feature: Meso Market:
Epic Pet Drop Rate:
Meso Sink Reduction:
Spring Season Background Image: The background image for the character select screen has a sunny new flair!
Events

Get all of the information on this month's events in the Rainbow Roller Events post!
Rainbow Roller Event: The Mapleopoly board is back for Rainbowopoly, so break out the dice to earn some brand new prizes including the Purple Heart Balloon flying mount!
Rainbow Fishing Hole Event: A new fishing spot has opened up at the end of the rainbow, and you can claim special prizes including the Green Wriggler ground mount and Rainbow Rhythm Hairpin Set!
Dungeon Delight Event Continues: For another month, you can claim double the rewards from all Hard Adventure Dungeons and now also Fortress Rumbles!
Update Day Hot Time Login Event: Hop into MapleStory 2 after the update and before 12:00 AM UTC on Friday, March 29th to earn 200 Red Merets and 7 days of Premium Club Access!
Absolutely Nothing Else Once April Begins!
Sales

Get all of the information on this month's sales in the Rainbow Roller Events post!
April Style Crate: New Style Crate and Coin Shop selections are here for April, including plenty of styles and items for Easter and the warmer temperatures!
Blooming Paradise Pack: Get in the swing of spring with a new Swing Set Emote filled with greenery and a Chat Bubble and Name Tag set to spread the season of rebirth!
New Emote: Zzz: Catch up on your sleep in class with this new emote, featuring your character dozing off at their desk!
Rainbow Style Crate Bundle: Purchase a stack of 20 Style Crates and get the brand new Rainbow Friends Name Tag for free!
Sweet Party Room Furnishing Package: Cut loose with a new package featuring neon signs, bars, ice buckets and more, everything you need to kick your gatherings up a notch!
New Hairstyles: Men can now get the Dandy Devil-May-Care Hair and Shiny Asymmetrical Cut, and women can get the Country Curl Pigtails and Cute Twin Tails styles!
New Face Styles and Cosmetics: Dixon's got a pair of adorable new facial styles, and Ren has a pair of new face cosmetics for you to start looking good for your warm spring picnics!
New Super Chat Theme and Stickers: Finally, we're releasing the Party Balloon Super Chat Theme, as well as two sets of 8 Stickers that you can use in chat: Howdy Urza and Howdy Orange Mushroom!
Bug Fixes and Other Changes
Treva Shop now properly restocks on a weekly basis as intended. While Treva restocking feature's timing wasn't weekly prior to the February 28th (Farewell Fairfight) Update, it was always intended to have a weekly reset. This is also be one of many factors we intend to look at with the Progression Improvement Update (tentatively April 25th), so stay tuned.
Previewing Shields or Codices in attack stance will now properly display the previewed equipment
Clarified the error message when attempting to use the reroller scrolls on gear for other classes to read "This item is not eligible"
Guild Experience points will now properly indicate what games will receive credit.
The display reservation windows will now use a 24 hour clock instead of a 12 hour clock format
Heavy Gunner's Bullet Spray skill now shows bullets continuously being sprayed while holding down the hotkey for the skill.
A mysterious portal that couldn't be entered in Magma Gorge has been removed. 
Glamour Anvil can now be used on Pluto's Accessories.
Crafted Savagery Boxes (Headgear, Shoes, Gloves, Top & Bottom boxes) can now be opened and will properly give the contents inside.
There was an issue previously where items from the Treva Supply Shop were resetting at inconsistent times until it stopped resetting overall.  The Treva Supply Shop will now properly restock on a weekly basis.
Pendants and Belts can now be stored and retrieved from the White Gear Mannequins
Outfit Eyewear and Outfit Face Accessories can now be stored and retrieved from the Black Outfit Mannequins.
Trader's Ribbon Fragments will no longer be displayed as possible rewards for Rune Temple and BeyondLink Tris since they do not drop from these dungeons.
Under Daily Missions, you can now view the pet types in the "Pet Window" under the "Toughen Up" tab.
The recently-added glare applied to the Chilly Round Chain Glasses (from the last patch (v10)) has been removed.
A new control layout image has been added for Mouse & Keyboard controls.
The Tamed Jungle Spider mount now has a jumping animation.
Fixed a typo in the description for the Black Cat Shoes (M/F).
Monsters will now display a status effect icon below their health total when they have immunity to specific effects.