Producer Blog - Guilded Glory Update and More

Dear Maplers,
It's been a while since we've published a Producer Blog! In the spring, we did Project New Leaf blogs every week, and we used MapleStory Fest and our official Twitch channel to reveal and discuss the improvements we were making. Time sure flies, and it's been already three weeks since the MapleStory 2: Awakening expansion.
After we saw requests rolling in on the MapleStory 2 subreddit asking for a new blog, I decided this would be a good time to publish one and discuss what we are doing for MapleStory 2, and what's coming soon.
On June 27th, we will be releasing MapleStory 2's Guilded Glory Update, which will add some long-awaited guild related features, notably the L4 and L5 Guild Raids, and Guild Dance Dance Stop. Internally, we're referring to this as a "Part 1" update, because while we're making some changes that we really wanted to bring to Guilds, we are still looking to see if there are any other popular requests we can take into account.
Guild Raid Xenon System L4 / L5
Last year, we added the L1, L2 and L3 Guild Raid: Xenon System. Now it's time to add L4: Ice Beast's Den and L5: Eternal Arena to the mix.
The new guild raid dungeons will function very similar to the first three raid dungeons. You progressively unlock the next raid dungeon by clearing the previous ones. Just like the previous Guild Raids, L4 and L5 will contain brand-new mechanics and challenges for you and your guild mates to master. These Guild Raids will give out rewards once per week upon completion, including Guild Funds, Guild EXP, and Guild Coins. On top of these rewards, each new Guild Raid has something special to mention!
Clearing L4: Ice Beast's Den
Guaranteed Drop: Epic Armor Attribute Lock Scroll

Character-bound
Expires at the end of next month

Random Drop: Noble Exemplar Crown

Headgear Outfit
Tradable once
Binds on Equip
Clearing L5: Eternal Arena
Guaranteed Drop: Epic Accessory Attribute Lock Scroll

Character-bound
Expires at the end of next month

Guaranteed Drop: Epic Armor Attribute Lock Scroll

Character-bound
Expires at the end of next month

Random Drop: Noble Exemplar Throne Emote

Tradable once
Consumed when used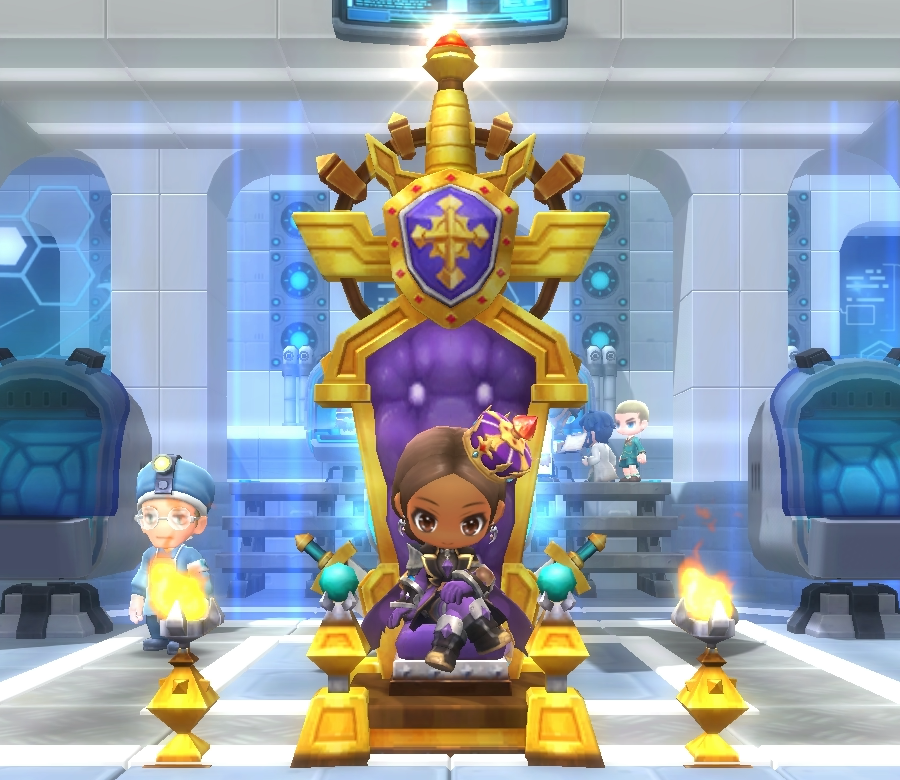 Guild Raid Difficulty Adjustment
With MapleStory 2: Awakening, all classes received an increase in power. As we see Guild Raids as challenging content to be enjoyed with a group, we will be rebalancing all Guild Raids to reflect the new power levels at Lv. 70 with Rank II Skills.
Guild Dance Dance Stop
We're also releasing Guild Dance Dance Stop, where two guilds will pull out their dance moves and duke it out 'till last person drops!
Functioning quite similar to the Dance Dance Stop mini-game but with a competitive edge, Guild Dance Dance Stop will take place every Saturday at 7:00 PM local server time for 2 hours (PST/PDT for North America West, CET/CEST for Europe, etc). Both guilds will receive Guild Funds, Coins and EXP for participating, with the winning guild getting a much larger share of the prize. Don't underestimate good strategy for this: Just because you're dancing doesn't mean there's no interesting ways to play for the win!
Guild Quest Adjustments
One of the common requests related to guilds was about the weekly Guild Quest requesting you do to Lv. 50 Hard Adventure Dungeons. With the Guilded Glory Update, we will be swapping these to Lv. 60 Hard Adventure Dungeons. While at it, we're also removing the guild dailies that required you to find regular/gold treasure boxes because… well, you know. I've done them too, and yes, they were annoying.
Blackshard Nexus
The days are approaching when the first round of avid players will be able to enter Blackshard Nexus! And we've heard from some of our hardcore players that MapleStory 2: Awakening's dungeons haven't been challenging for them. Rest assured, that won't be the case with Blackshard Nexus, the final stage battle of the Eye of Lapenta saga.
Blackshard Nexus, compared to other dungeons, functions very differently and for a good reason. The Dungeon Clear Count is account-based and upon clear this dungeon will give you not only 1 but 2 pieces of Ascendant gear (1 weapon, 1 armor)--the best gear currently available in the game. Obtaining this equipment isn't a requirement to progress, as current legendary equipment obtained from Lv. 60 chaos raids will be enough to get you into Blackshard Nexus. The Ascendant set that you earn by completing Blackshard Nexus is truly a prestige to have for its awesome looks and cool effects.
With that in mind, unlike other Lv. 60 dungeons, the difficulty of Blackshard Nexus is set to be significantly more difficult than "Gear Score Tips" might imply. Equipping the bare minimum gear score will get your foot in the door, and then repeatedly stomped on as you face the strongest foes you've ever come across in MapleStory 2. Continuing to improve your equipment will surely help you here. Don't forget to get your defense up high as well because we believe the biggest challenge will come with surviving, especially since Blackshard Nexus doesn't allow instant revives. (Tip: Have a doctor cure your tombshocked before going in so that you can get your pet or party to revive your first death for free).
We did this because we balanced the rest of the Lv. 60 content to be more accessible in general. Other Lv. 60 dungeons were a core part of the progression, and we didn't want players to feel blocked from progressing further. As Blackshard Nexus isn't a necessary part of progression but rather more of a trophy, we really wanted to give the right challenge to our highest achievers in the game.
Events + Awesome Rewards
As an experiment to do something different this month, we've worked  with the dev team to come up with something unique!
The July event will be a hybrid of old and new, where you can get a good amount of event coins for doing some really quick daily quests that will be sufficient to buy cool rewards. But, hunting field monsters throughout Maple World will also have a chance to drop additional coins. The best part is, this time the event shop will stock progression rewards like Onyx Crystals, Chaos Onyx Crystals, Crystal Fragments and Colorful Crystal Selection Boxes.  I think the non-expiring event healing potion is a bonus.
We don't expect you to reach the weekly event coin cap we've set for hunting field monsters every week, but we also don't expect you to buy everything in the store either. This time, it will come down to your choice.
Epic Accessory Lock Scrolls
Of course, Epic Accessory Lock Scrolls have also been in discussion. While Guild Raid L5 now includes one additional Epic Accessory Lock Scroll, we know that you have been requesting a more reliable location that can be viable to those who play without a guild.  Unfortunately, we haven't been able to finalize a solution for this, because it's one of the most coveted items and we are having a hard time finding the right place for it. Many systems have been discussed but in the end we ran out of time to choose a final location for the Guilded Glory Update.
However, since this was requested when the B4 removal was announced and we've kept you all waiting, we did want to find a way to reintroduce them to you right now. As some of you have suggested, we will add it to the Allicari Shop (Rue) as event items with limited stocks for the month of July. Price points for the stock limit will be close to the weekly amount of Rue you can get from Prestige boxes.
We're still discussing this topic head on, and our current plan is to find an appropriate, permanent location and implement it in a future update. We'll let you know once more details are locked in for this.
In Closing
Originally, I thought this was going to be a short blog.
Boy, was I wrong.
There's a lot to talk about today because there's a lot we've been working on. As mentioned from the beginning, there's a slew of guild related changes we haven't included in this update that we are continuing to actively discuss for the next round of implementations. The list includes common requests we've been hearing, like guild leader transfer feature in case of absence, guild buffs and guild shops. We can't promise you any specifics yet though, because some topics will take longer to develop and lock in compared to others and we don't want to make any promises until we're sure we can keep them.
We expect that we will continue to make rounds of updates after this one in order to improve the parts of MapleStory 2 that exist outside of dungeons. All the feedback and suggestions we've been receiving have been great and we are taking action on them, with a focus on one or two aspects  for each update. And this time, unlike Project New Leaf, we are adding the pieces we've been able to get into the game rather than waiting for the full round of implementation, because we feel these changes can benefit you right away as we continue our iterations of each element to make each change more meaningful.
This also doesn't mean we won't be adjusting other core aspects of the game, such as Class Skills. We're actively grooming the list of skill related feedback since the Awakening Expansion to review with our dev team together and see where we can make adjustments. Please do note that the amount of changes we can make may be limited to reflect the other balance changes coming in future expansions.
We've discussed a lot today but I know you'd like more details on some topics. Please be on the lookout for the official Guilded Glory Update event and patch notes posts next week for more details. We also have an official livestream happening on June 20th at 1:00 PM PDT (8:00 PM UTC) to discuss next week's update, so don't miss your chance to join the conversation. If you'd like, please let us know your questions and feedback via the subreddit and forum links below and we will go over some of them in tomorrow's livestream as well.


Thank you for being patient with us and see you in game!
Sincerely,
LAMBCOOK