Guilded Glory Update - v14

The last four weeks of MapleStory 2: Awakening have been filled with excitement, and for the month of July we're following up with new additions to make your adventures with your friends in Maple World all the better! Join up with your guildmates for two new challenging Guild Raids and hit the dance floor to face off against other guilds with Guild Dance Dance Stop every week!
Guild Dance Dance Stop
Dance Dance Stop is one of MapleStory 2's best mini-games, and you can now take on other guilds to determine who's the best at Dance Dance Stop!

Note: Test image, tile numbers not representative of final version
Guild Dance Dance Stop functions a bit differently from the normal variety you know and love. The goal is for your guild to have more players left on the floor at the end of each round than your opponent, and the best of five rounds wins the match. The tricky part is that you're sharing the floor with the other team, sharing the squares with them... and it would be such a shame if you hopped off the square with six opponents on it at the last second, wouldn't it?
Guild Dance Dance Stop will be available at every Saturday at 7:00 PM local server time, and your guild will be able to participate in as many matches as they can for the following two hours. Your guild will earn Guild Coins, Guild Funds and Guild Experience for playing, with a much greater share going to the winning team. Get your guild together, plan your strategy and dance the night away every week!
Guild Dance Dance Stop Details:
Guild Dance Dance Stop will be added to the game. Guilds compete in a competitive dance-off on the disco floor, with the winner bringing in a big influx of guild cash.

This event occurs every Saturday at 7:00 PM local server time for 2 hours:

NA West (PDT, UTC -7): 7:00 PM PDT / 2:00 AM Sunday UTC
NA East (EDT, UTC -4): 7:00 PM EDT / 11:00 PM UTC
South America (BRT, UTC -3): 7:00 PM BRT / 10:00 PM UTC
Europe (CEST, UTC +2): 7:00 PM CEST / 5:00 PM UTC
Oceania (AEST, UTC +10): 7:00 PM AEDT / 9:00 AM UTC
UTC times are currently planned to remain the same for all servers, even after Daylight Saving Time begins and ends.

Guilds may queue up at the designated time to play as many games as they can for the duration of the event.
Players can enter the match up to 90 seconds after the first player has entered in a successful queue.
Guilds must have a minimum of 10 players participating in each round, up to a maximum of 30 players. If a guild has less than 10 players participating during a round, it is disqualified.

In the event one team is disqualified due to a lack of members and the other team has more than 10 members, then the team with more than 10 members will automatically win and receive the "loser's reward". The disqualified team gets nothing.
Automatic matchmaking will try to match guilds with similar amounts of online players to each other.
There is no system that evens out the playing field. Bring as many of your comrades as the stage can fit!
If your guild has more than 30 players in the instance, the game will randomly select 30 to place in the stage.

In a best of 5 rounds, the objective is to have more surviving members on the dance floor than the other team.

When the timer hits 0, whichever guild has more players on the dance floor wins the point.
In the event of a draw, neither team gets the point.
Unlike the normal Dance Dance Stop there are a few changes to make it more streamlined for a GvG setting:

The amount of time each round takes is the same, and does not gradually decrease.
Tiles with especially high numbers have been removed.
Putting up the barrier takes 0.5 seconds (normally 0.2 seconds).
Putting down the barrier takes 1 second (normally 3 seconds).
You can activate a barrier if you and your guildmates matched tile's number when a tile was 2 or higher. However, if an enemy guild's player is on the tile, you can't activate a barrier.

Upon winning or losing a match, your guild will be awarded an appropriate amount of guild funds as well as guild coins for every member depending on the level of your guild.
Guild Level
Guild Coins
Guild Funds
Guild Experience
Win
Lose
Win
Lose
Win
Lose
1
30
15
2,000,000
400,000
4,000
2,000
2
32
16
2,500,000
500,000
5,000
2,500
3
33
17
3,000,000
600,000
6,000
3,000
4
35
18
3,500,000
700,000
7,000
3,500
5
36
18
4,000,000
800,000
8,000
4,000
6
38
19
4,500,000
900,000
9,000
4,500
7
39
20
5,000,000
1,000,000
10,000
5,000
8
41
21
5,500,000
1,100,000
11,000
5,500
9
42
21
6,000,000
1,200,000
12,000
6,000
10
44
22
6,500,000
1,300,000
13,000
6,500
11
45
23
7,000,000
1,400,000
14,000
7,000
12
47
24
7,500,000
1,500,000
15,000
7,500
13
48
24
8,000,000
1,600,000
16,000
8,000
14
50
25
8,500,000
1,700,000
17,000
8,500
15
51
26
9,000,000
1,800,000
18,000
9,000
New Guild Raids
With the first phase of the Skybound Expansion back in December, we unveiled a new set of challenges for guilds to undertake: Guild Raids! These special dungeons focus on difficult, coordination-centric contest, and with the Guilded Glory Update we've added a pair of new Guild Raids for you to take on!
L4: Ice Beast's Den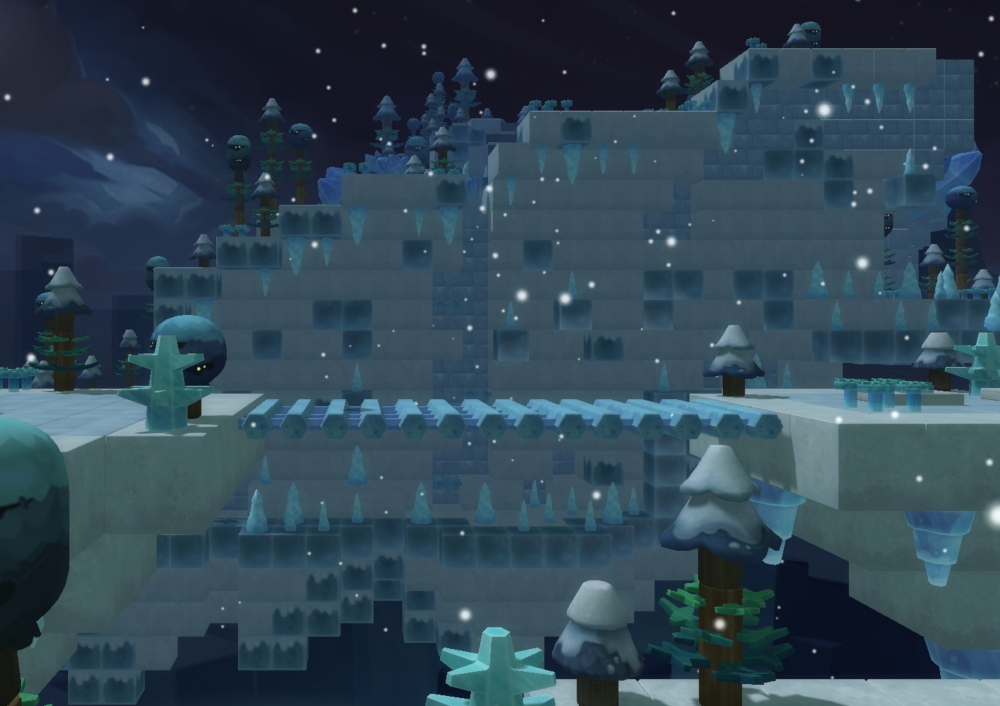 Ice Beast's Den is the new L4 Guild Raid, where you and your fellow guildmates must push through sections of precision jumping and careful climbing before taking on groups of monsters. But while the fearsome Ice Beast is a foe to truly dread, it's the whipping cold around you that seeks to hurt you the most.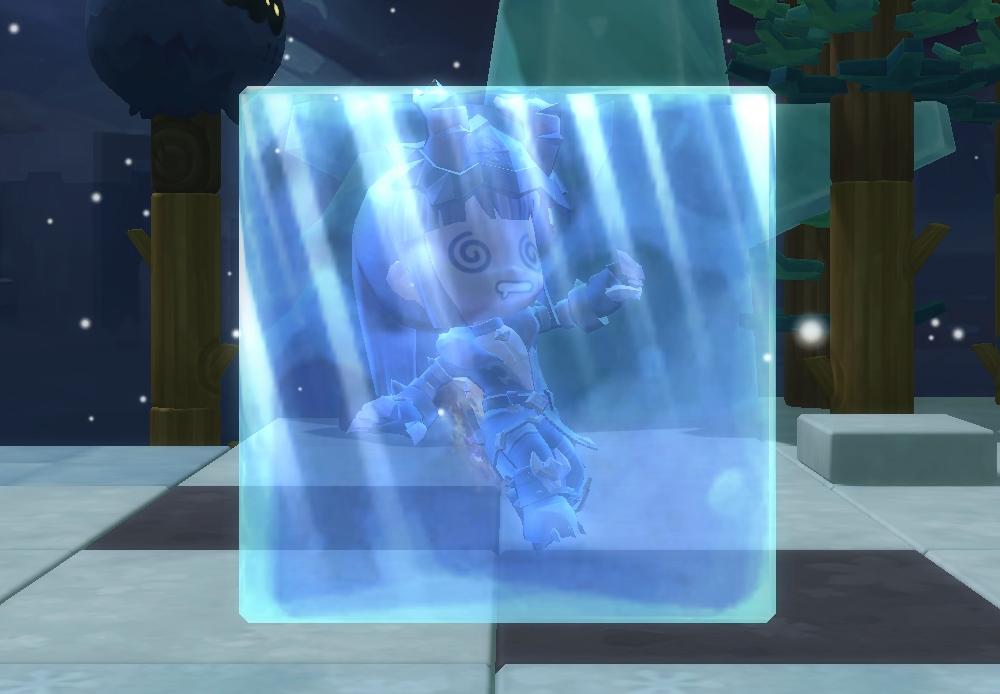 At least the Override Control: Climate Control will protect you for a time, because dodging attacks or holding onto the wall is hard to do when you're frozen solid! This device will cost you 30 Guild Coins from Marianne in your Guild House, and can be purchased up to 30 times per week... but it will only last you for two minutes, so either stock up well or watch out below!
L5: The Eternal Arena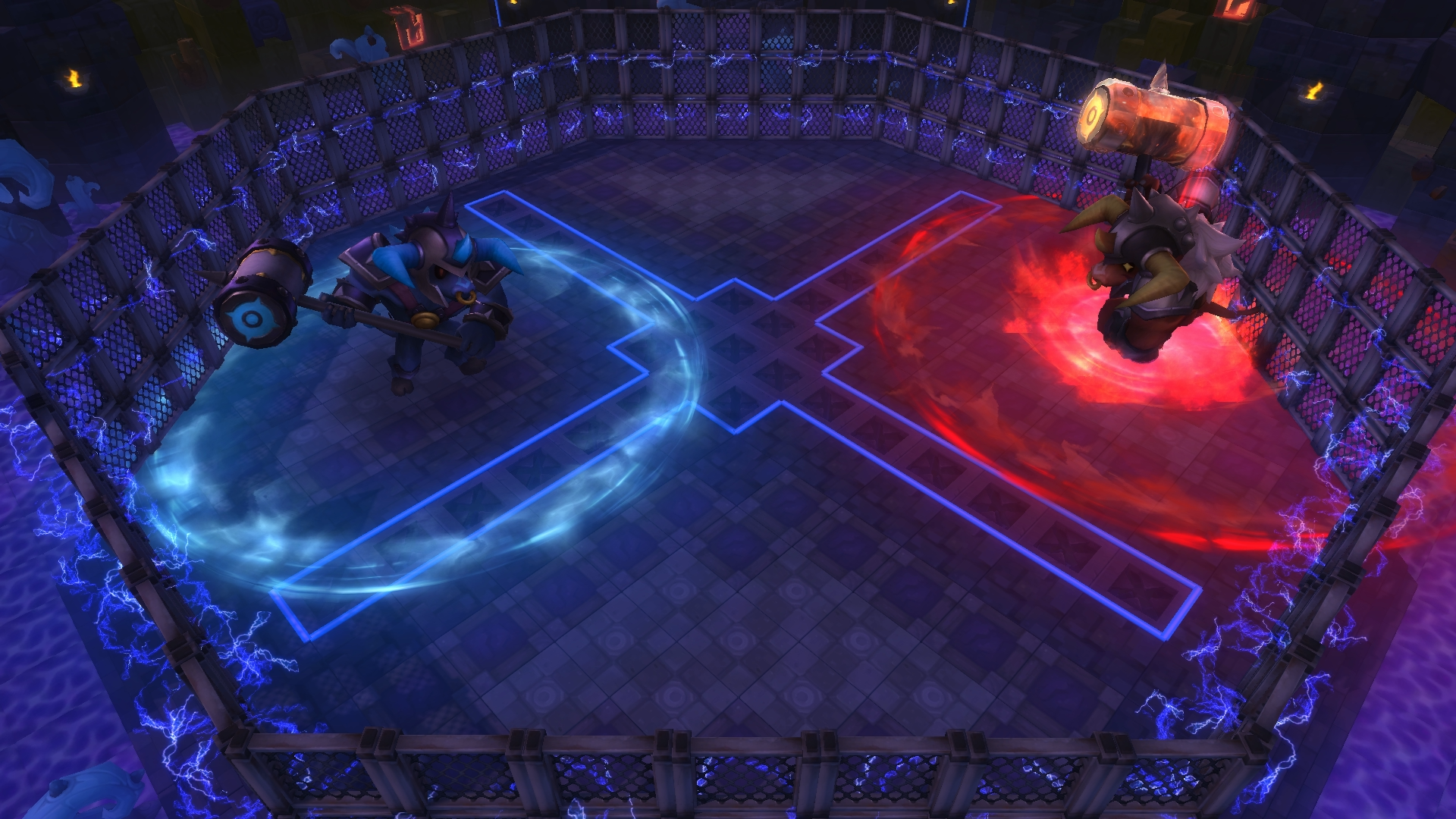 Once you're finished with the Ice Beast's Den, you'll be able to enter the L5 Guild Raid, the Eternal Arena! Two mighty minotaurs wielding massive mauls await you within, the mighty Hemos and Pamos, ready to crush you and your guild together!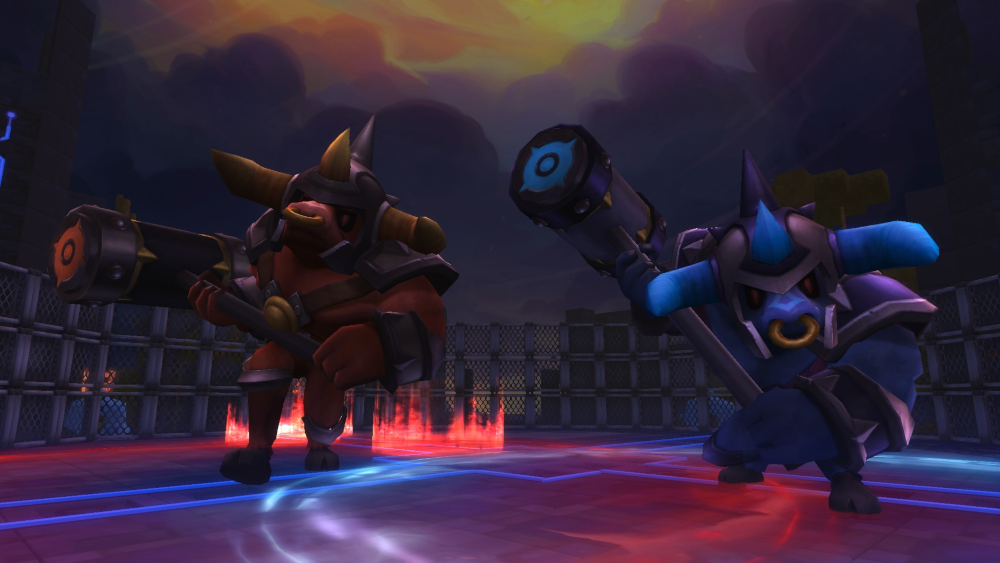 The "only" thing you need to do to win is take down both massive monsters, but the brothers are fearsome when they fight next to each other, and they might not go down so easily if they can see their kin still fighting. You have only five minutes to win, so don't waste a moment!
Guild Raid L4/L5 Details:
In L4: Ice Beast's Den, you'll have to equip yourself with an Override Code: Climate Control from Marianne in your Guild House for 30 Guild Coins (weekly stock of 30) in order to brave the frigid chills. Navigating through the dangerous and icy trespass will put you face to face with a familiar yet chilly foe.

Clearing L4 grants you:

Epic Armor Attribute Lock Scroll (expires end of next month after obtaining)
Guild Funds
175 Guild Coins
A chance to obtain the Noble Exemplar Crown (Tradeable) headgear outfit

In L5: Eternal Arena, you'll be put face-to-face with two massive foes. Pick them apart and take them down together to conquer this challenge.

Clearing L5 grants you:

Epic Accessory Attribute Lock Scroll (expires end of next month after obtaining)
Epic Armor Attribute Lock Scroll (expires end of next month after obtaining)
Guild Funds
275 Guild Coins
A chance to obtain the Noble Exemplar Throne emote (Tradeable)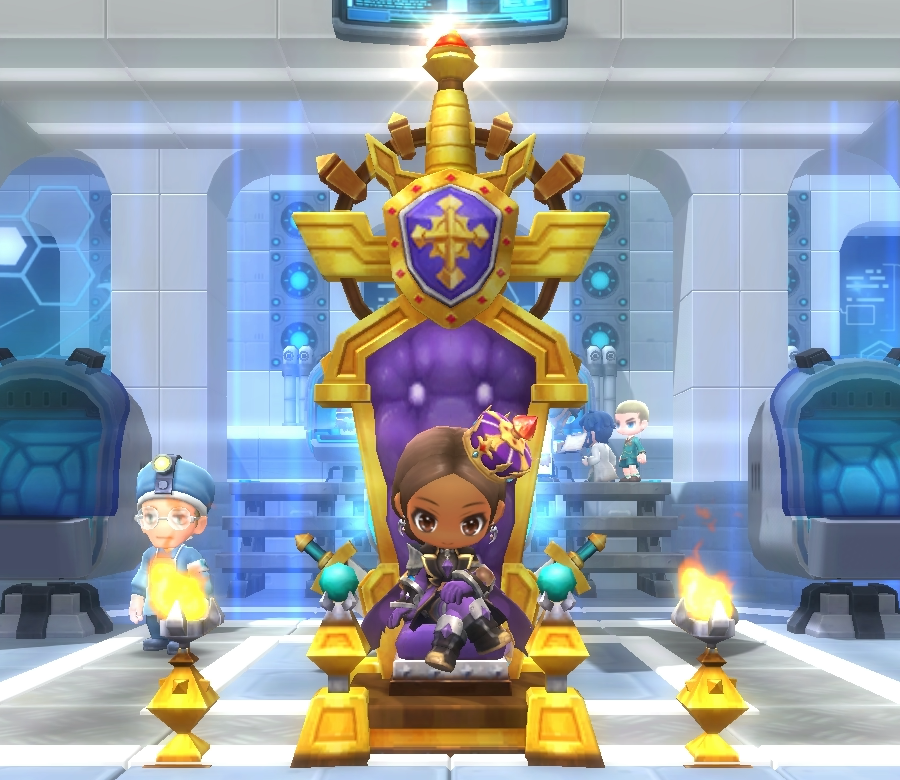 Quacking July Events

Learn more and get a good look at this month's events and prizes in the Quacking July Events post!
Ducky Days: There's an interesting inflatable ducky pool in Queenstown. Obtain air pumps in different ways to inflate this pool flotation device to earn coins to spend in a special shop! You can also earn coins from other ways including fishing, music, and completing mini-games. Lastly, if you find yourself really itching for some extra coins, you can hit up the wilds and slay enemies to grind out more!
Patch Day Login Event: Log in within a day of our update to receive a small present of 200 Red Merets and a Premium Club 7-Day Pass!
Rue the World Shop Event: Trying to min-max your equipment towards its peak form? Purchase Accessory Attribute Lock Scrolls and Epic and Legendary Armor Bonus Value Re-Rollers with Rue in the Chest of Wonders shop in Queenstown!
Progression Discount Month: Throughout this month, enjoy a 10% discount from Bonus Attribute Re-Rolling, Enchant Catalysts (both Ophelia and Peachy) and Pet Bonus Talent Re-Rolling, plus a 50% meso discount on Pet Fusion Costs, with a different discount coming every week!
Outta This World Sales
Check out the full details and get a good look at all the new items in the Outta This World Sales post!
July Style Crate: New Style Crate and Coin Shop selections are here for July, including a dinosaur costume, space suit, swim suits and more to enjoy the first full month of summer! You can check out the full list of items on the Style Crate Contents page.
Summer Vaycay Daily Wonders: Celebrate the summertime in MapleStory 2 with a slew of awesome items. A cute-as-a-button wavy hair pin, dolphin-themed name tag and chat bubble, a slippery fast Shaved Ice ground mount, an amazing flying Wondrous Aqua Manta, and more!
Outta This World Pack Style Package: Pick yourself up a bunch of style crates while also conquering this planet with the SR-100 epic ground mount and Space Walk Emote.
Intergalactic Package: Probe Maple World for intelligent life forms with this gravity-defying Mothership epic air mount with matching name tag and chat bubble.
New Hairstyles: Hit the beach or outer space with some brand new styles from Paulie's Special Hairstyles! Men can now get the Languid Perm and Layered Chic Cut, and women can get the Glossy Short 'n' Straight Perm and Locks and Cropped Bangs styles.
New Face Style: Woo your heart's desire with the new Romantic's Gaze face style, available for both men and women!
New Chat Themes: Finally, we're releasing a pair of brand new Super Chat Themes perfectly suited for a trip to the beach, the Beach Ball and Beach Parasol Super Chat Themes!
Detailed Shop Changes:
Paulie's Special Hair Styles:

The following hairstyles have been added to Paulie's Special Hairstyles at a 5% rate to obtain:

Languid Perm (M)
Layered Chic Cut (M)
Long See-through Bangs (F)
Shiny Bloom Perm (F)

The following hairstyles have been removed from Paulie's Special Hairstyles:

Angelic Layers (M)
Rich Boy Hair (M)
Long Set Twin Tails (F)
Fantastic Ophelia Hair (F)

The following hairs have had their acquisition rate increased to 11.25%:

Tousled Apple Hair (M)
Voluminous Parted Bangs (M)
Tied Hair (F)
Cutie Double Buns (F)

Hairstyles in Paulie's shop can also be purchased for 15 Chic Salon Vouchers from Lolly in Rosetta Beauty Salon

New Faces:

The following face style has been added:

Romantic's Gaze (M)
Romantic's Gaze (F)

Players at Lv. 50 and above will be able to purchase the Milestone Style Pack, giving them 5 Style Crates for the price of one

Price: 300 Blue Merets
Can be purchased only once per account

Style Coin Shop additions:

Astronaut Outfit Package
Unidentified Flying Weapon Box
12 Epic outfits: Astronaut Gloves (F), Astronaut Gloves (M), Astronaut Helm (F), Astronaut Helm (M), Astronaut Planet Earrings (F), Astronaut Planet Earrings (M), Astronaut Shoes (F), Astronaut Shoes (M), Astronaut Suit (F), Astronaut Suit (M), Mini UFO (F), Mini UFO (M)
Sailing Yacht (2-person mount)
Water Gun Buddy Emote (2-person emote)
Shining Star Damage Skin
Submarine Swim Tube
Alien Meteor Tombstone
Starlight Conch Fishing Badge
16 Exceptional outfits (also available in the Style Crate): Aqua Summer Beachwear (F), Aqua Summer Beachwear (M), Aqua Summer Crab Bracelet (F), Aqua Summer Crab Bracelet (M), Aqua Summer Seahorse, Aqua Summer Starfish Ankle Bracelet (F), Aqua Summer Starfish Ankle Bracelet (M), Aqua Summer Tropical Fish, Baby Dinosaur Clothes (F), Baby Dinosaur Clothes (M), Baby Dinosaur Gloves (F), Baby Dinosaur Gloves (M), Baby Dinosaur Hat, Baby Dinosaur Shoes (F), Baby Dinosaur Shoes (M), Baby Dinosaur Tail

Style Coin Shop removals:

9 Epic outfits and 16 Exceptional outfits (also removed from the Style Crate): Charming Star Earrings, Charming Cat Ears, Charming Star Bracelet (F), Charming Star Bracelet (M), Charming High Sock Sneakers (F), Charming High Sock Sneakers (M), Charming Checkered Uniform (F), Charming Checkered Uniform (M), Rebel Bunny Ears, Rebel Bunny Band (F), Rebel Bunny Band (M), Rebel Bunny Shoes (F), Rebel Bunny Shoes (M), Rebel Bunny Dress (F), Rebel Bunny Shorts (M), 3D Glasses
Floral Pedicab (2-person mount)
Couple's Picnic (2-person emote)
Hi-Tek Damage Skin
Holographic Tombstone
Piñata Tombstone
Rainbow Unicorn Swim Tube
Laser Sword Fishing Badge

Meret Market additions:

1 name tag: UFO
1 chat bubble: UFO
1 emote: Space Walk Emote
1 air mount: Mothership
1 ground mount: SR-100
2 two-handed knuckles outfits: Meow Meow Knuckles and Cool Shark Knuckles
7 outfits (also available in the Style Crate): Lotus Frog Hat, Small Round Glasses, Refreshing Strawberry Hat, Jeweled Clam Earrings (M/F), Off-the-Shoulders Blouse Shirt (F), Pajama Shirt and Slacks (M)
2 super chat themes: Beach Ball, Beach Parasol

Meret Market removals:

3 name tags: Cloudtop Fantasy, Meow Meow, Carousel
3 chat bubbles: Cloudtop Fantasy, Meow Meow, Carousel
2 emotes: Penguin Cup, Joyous Twirl
2 ground mounts: Charming Pony, Spring Flower Baby Walker
8 outfits: Classic Hair Ribbon, Big Beret, Pure Ribbon Frill Dress (F), Casual Overalls (M), Double-Strap Watch (M), Simple Frilled Band (F), Simple Strap Sandals (M), Ribbon Strap Sandals (F)

Meret Market Price Changes:

Rubber Pacifier: 250 > 420
Throbbing Lump: 280 > 480
Checked Jacket Skinny Jeans (F): 250 > 640
Checked Jacket Skinny Jeans (M): 250 > 640
Ducky Sandals (F): 200 > 390
Ducky Sandals (M): 200 > 390

These items were incorrectly priced when initially placed on the Meret Market, and have been adjusted to be more consistent with similar outfit items that come from the Style Crate
Bug Fixes and Other Changes
General Changes:
The HP of enemies within L1, L2 and L3 dungeons have been increased to account for the new and powerful Rank 2 abilities.
Skill tool tips have a new look! Rank 1 skill tool tips have been updated to match the format of Rank 2 skills and now highlight the most important information.
Bug Fixes:
Priest skill "Scathing Light" has been corrected to properly be considered a Long-Range attack, as stated in the skill description
Clarified the skill description for Wizard's "Ember": Any Flame Wave damage will trigger "Spreading Embers"
Updated the description for Thief skill "Critical Slice" to reflect that it momentarily grants +100 Crit Rate
Wizard skill "Ice Cream Time" no longer dismounts other players
Fixed an issue where the UI would not update when changing bonus attributes on items, making it difficult to re-roll several times in a row
Corrected the Ishura pet's tooltip to accurately describe him gaining an "Attack Speed" buff (instead of "Attack")
Corrected the item description of the "Colorful Crystal Selection Box" to state that it's a selection box and not a random box
Priest skill "Scathing Light" now properly scales in damage when additional skill points are allocated to this skill
Lukarax now loses his defense buff as intended when defeating Madria during Normal Madraken Spire
MK 52 Alpha and CHKY-002 now properly grant EXP when defeated
Corrected an issue that caused some players to not gain EXP from world bosses in rare situations
Faction instruments can now hold three scores, like other blue instruments
Holy Seraphim Knuckles can now be dismantled for Style Coins
Fixed an issue that caused the Snowflake flying mount to sometimes erroneously become Character Bound. This item is now Account Bound
All Foraging/Mining icons will now display correctly on the Berg and Alkimi Island's mini-maps
Epic Infernog pet is now correctly listed as a possible reward from Wrath of Infernog dungeon
Fixed an issue that caused Dark Wind items to sometimes erroneously become Character Bound. These items are now Account Bound
Corrected the Eye of Lapenta Dungeons' Colored Lapenshard Resonance restriction tooltips to be more specific. Actual entry restrictions have not changed
Boss souvenirs are now available for purchase (after meeting the unlock requirements) for the new Hard Dungeons, Chaos Raids and Lapenta Dungeons
An issue that was preventing certain players from completing the quest "A Piercing Wind" has been fixed
"Display Current Experience %" now functions for both the regular and prestige experience bars
Dark Vanguard Gear Box description has been corrected to reflect that all contents are gained when opening the box
Female characters will no longer refer to themselves as "your guy" during the quest "Technical Superiority"
Male characters will no longer refer to themselves as "the right lady" during the quest "Magical Superiority"
Your character will no longer briefly appear in a cutscene during the quest "After the Storm"
Corrected the tooltip for Striker Daily Wonders in the Daily Wonders menu to accurately reflect how this item is obtained
"Cute Apple Bob" hairstyle has been renamed "Tousled Apple Hair" to more accurately reflect the style
Master's Malice Blue Lapenshard has had it's text corrected to properly state that it debuffs the enemy, not you. Important difference.
Corrected rare cases where gear would display incorrect bind properties when storing it on a mannequin, deleting the floorplan, and viewing the items after they are returned via mailbox
Prestige Level Insignias no longer occasionally display an incorrect prestige level
Added a Wailing Mine portal to the Magma Gorge map, as well as a Magma Gorge portal to the Wailing Mine map
Corrected the text in level 35-39 recommended dungeons from "Hard Shadow Altar" to "Shadow Altar"
Summoner Latun's shield will now immediately end after killing summoned enemies
Removed instances of duplicate text when interacting with Ophelia
Added portrait pictures for Steamsphere and Arcroller in the encyclopedia
In Brazilian Portuguese, adjusted the font color of certain text in the Enchant Transfer window
In German and Brazilian Portuguese, the skills menu has been adjusted so as to not fully display all text
Corrected Archer skill "Enhanced Spiral Arrow" tooltip to state that it hits an additional 4 times
Fixed an issue with Striker's "Meridian Flow" where it could be used in certain situations without cooldown
Archer skill "Twirling Wind Arrow" will now always do splash damage (Airwave) when cast
Fixed an issue with Priest skill "Shield of the Archon" sometimes not activating
Added a missing tooltip description for the Thief skill "Mesoguard Plus EX"
The Epic quest "Never Back Down" can no longer be abandoned
Known Issues
Certain skills, such as Echoing Blade, have no effect when attacking World Boss corpses
Some portals in Terminus of Time occasionally don't function properly
Knights can no longer use "Shield Charge" to dash across some large gaps, instead having their movement interrupted part-way through
Sometimes when purchasing multiple Meret packages, some of the packages are not received in-game until you log out to character select screen and return to game
Purifying Light has an incorrect description regarding lowering the enemy's defense. It should instead state that it "increases the damage taken"
Very rarely when clearing a guild raid, you won't get credit and cannot progress to the next one
Some players are missing trophies that were supposed to be granted when using the Lvl 50 Level-Up Potion
Sometimes Fortress Rumble will not give S+ credit for finishing in under 4:30
Aqua Summer Tropical Fish and Aqua Summer Seahorse animations reset after attacking
The area left behind by Heaven's Wrath skill forces the Priest to drop what they're holding
There is a framerate decrease when Thief changes stance between Battle Stance/Watchful Stance
When changing gear in their house, the Lapenta dungeon entry requirements don't update until the player leaves their house
Willy One-card's Deck buff effect persists even after unequipping the Deck
Switching chat tabs can sometimes clear the Main chat box of existing messages and alerts
In Brazilian Portuguese, no text is displayed in Erda's buff status tooltip in Icethorn Ridge
In Brazilian Portuguese, no text is displayed in Hemos/Pamos buff status tooltip in Guild Raid L5: Eternal Arena
In Brazilian Portuguese, debug text is displayed when granting and revoking authorization to furnish a house
Guild Dance Dance Stop might also start at UTC 07:00 PM Saturday and run for an hour instead of scheduled time on certain regions.